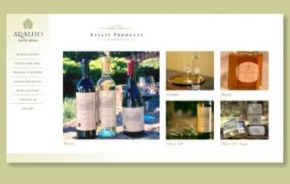 About This Vineyard
Our organic wine estate is located in the northeast Napa Valley, just east of Calistoga. Its two primary components are the 38-acre Eisele Vineyard, and a winery and cave complex we designed and built specifically to vinify only Eisele Vineyard grapes. The Eisele Vineyard is one of the most respected Cabernet Sauvignon vineyards in the Napa Valley, equivalent to a premier cru Bordeaux. Warm days, cool nights and well-drained cobbly soils produce remarkable wines.
The vineyard was established more than 120 years ago, and was first planted to Cabernet Sauvignon in 1964. When we acquired it in 1990, we began extensive renovation of the existing buildings, created a new winery and caves, and in the vineyard, refined the varietal mix and upgraded clone-rootstock combinations, to realize the property's potential for joining the international elite of limited production wine estates oriented exclusively to quality.
As stewards of this singular place, we employ organic and Biodynamic practices in our farming and winemaking, reinforcing the unique terroir in our wines, and ensuring the health of the soil and vines now and for the future. Our farming extends from vines to olive trees, fruits and vegetables for the table, and beekeeping. The olive oil and honey we produce further reflect the property's character and natural abundance. Through meticulous attention to detail in all factors influencing the ultimate quality of the wines, we strive to produce singular wines of place, of the Eisele Vineyard. Welcome to Araujo Estate.
No video available for this vineyard
Address:
City:
Postcode:
State:
Country:
Phone:
Email: