Today's Featured Vineyards
Organic Wine
Hello and welcome to Organicwinefind.com -- the website to help you choose and find organic wine. The site features 700 of the top organic and biodynamic vineyards in the world, and more than 3000 of their organic wines!
You can use the navigation bar at the top of the page to browse by vineyard, by wine, or you can use the advanced search tool available on each page to help you choose organic wines based on your preferences.
Vineyard profile pages are rich with information including descriptions, videos and maps. We've also teamed up with Wine-searcher.com, so that for each organic wine, you can see a list of retailers that sell it.
Recent Articles: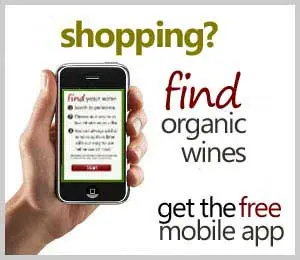 If you're interested in drinking organic wine, you probably also enjoy purchasing organic food. There are many benefits to buying organic, some of which are quite obvious, while others are still the subject of much debate amongst scientific researchers. One of the more controversial topics is...
more info
Biodynamic wines, produced in accordance with the practices of biodynamic agriculture, are a popular if controversial subset of the organic wine genre. Grape-growers who practice biodynamics treat the soil, plants, and animals in a vineyard as one complete self-sustaining system. To the layman, some biodynamic...
more info
It seems slightly peculiar in a country such as Portugal with its markets brimming with organic produce and historically being a wine-producing country that there are not more organic wines among its domestic and export sales. However, chemical companies are now being spurned by a growing number of producers to...
more info
Wine has a noteworthy presence on the silver screen and has become the source of inspiration for many backdrops, story settings, plots and characters. Presented below are ten amazing wine movies that just make you want to sit back and relax with some popcorn or cheese and of course, a good bottle of wine. 1. A...
more info
If you spend a day wine tasting or an evening lounging at wine bar, you may overhear someone exclaim that they cannot drink red wine because the sulfites will induce a headache. You might even be that someone. However, science-minded imbibers know that this is not actually the case, for several reasons. The...
more info
In February 2012, the European Union (EU) took an important step in standardizing organic wine production among its member countries. Portugal is not a stranger to organic wines with a sizable portion of its annual output having been "organic" for years, with each winery or quinta having had regional rules....
more info
These days, organic products seem to rule the world. Organic produce is prized at the grocery store, we seek out meat that has been farmed organically, and even our clothing is more and more frequently being made from fabrics like organic cotton and silk. Naturally, the "trend" has spilled over into...
more info
Organic wines differ from conventionally produced wines in a number of ways. Therefore, when buying organic wines, there are several factors that you need to take into consideration. Firstly, organic wines are usually weaker than non-organic wines as no artificial additives are used to produce the alcohol....
more info