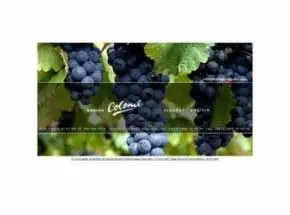 About This Vineyard
Colomé Estate situated in the Calchaqui Valley, in Salta, Argentina. It is one of the highest altitude vineyards in the world. The Estate wine is an organic Malbec based blend of Cabernet Sauvignon and Tannat. The organic wine is made with grapes from 90-150 year-old vineyards, farmed biodynamically.
The Estate is owned by Hess Family Vineyards which also has estates in Napa, and Barossa Valley, Australia.
Malbec, the signature red varietal of Argentina, excels in the warm, dry climate, producing exceptional wines with dark, spicy aromas and succulent texture. The Bodegas Colomé organic Malbec has been on the Wine Spectator Top 100 list two years running.
Address:
City:
Postcode:
State:
Country:
Phone:
Email: