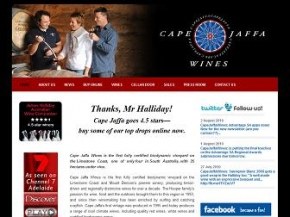 About This Vineyard
Cape Jaffa Wines is the first fully certified biodynamic vineyard on the Limestone Coast and Mount Benson's pioneer winery, producing terroir-driven and regionally distinctive wines for over a decade. The Hooper family's passion for wine, food and the outdoors brought them to this region in 1993, and since then winemaking has been enriched by surfing and catching crayfish.
Livestock farmer Kym and winemaking son Derek searched the region, jumping fence after fence before finally settling on the Mount Benson site which offered a very consistent soil structure and favourable elevated position. Cape Jaffa's first vintage was produced in 1995 and today produces a range of cool climate organic wines, including quality red wines, white wines and certified biodynamic wines.
Cape Jaffa Wines is situated on terra rossa soils with a moderate maritime climate. The Mount Benson region is home to 600-odd hectares of grapes set across a backdrop of the Southern Ocean. When we're not dragging hoses and selling wine, we're pulling cray pots, surfing or merely taking in the pristine coastline and national parks which the South East is well known for.
Awards:
2009 National Cool Climate Wine Show – gold medal for 2007 La Lune Cabernet Sauvignon
2009 SA Great Regional Sustainability Award for the Limestone Coast region
2009 South Australian Tourism Awards – silver medal
2008 South Australian Tourism Awards – bronze medal
Address:
City:
Postcode:
State:
Country:
Phone:
Email:
Limestone Coast Road
Mount Benson
5275
SA
Australia
+61 8 8768 5053
[email protected]