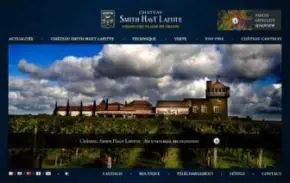 Chateau Smith Haut-Lafitte
About This Vineyard
Smith Haut Lafitte is owned by former Olympic skiing champion, Daniel Cathiard, whose daughter Mathilde established Caudalie – a health and beauty treatment/range of products based on the grape seeds left over from the must from making the wines. The organic vineyards lie in a single block on a gravelly rise which covers 138 acres. The high content of gravel in the soil aids drainage and also reflects the sun's rays which helps to ripen the grapes.
Both red and white grape varieties are grown in the vineyard. The red vines are 55% Cabernet Sauvignon, 35% Merlot and 10% Cabernet Franc. The white vines are 90% Sauvignon Blanc, 5% Semillon and, unusually, 5% Sauvignon Gris. The oenologists are Michel Rolland and Stephane Derenoncourt.
The red wines of Château Smith Haut Lafitte are medium bodied, well structured, well rounded and soft in style with gentle tannins and moderate acidity. These organic wines have flavours of ripe blackberries, liquorice and toasted oak. The white wines are rich, complex and well balanced with aromas of peaches and grilled fruit. The flavours are typically Sauvignon Blanc gooseberry and hay with lemon and quince.
Address:
City:
Postcode:
State:
Country:
Phone:
Email: