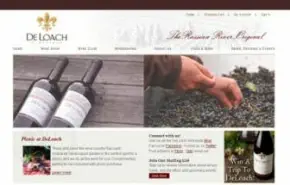 About This Vineyard
DeLoach Vineyards pioneered Pinot Noir wine growing in the Russian River Valley when Cecil DeLoach, a firefighter from San Francisco with a passion for winemaking, first planted the grape in 1973. In 2003, DeLoach Vineyards was purchased by the Boisset Family from Burgundy, France, when Jean-Charles Boisset fell in love with the Russian River Valley on his first visit to the area, immediately recognizing the similarities between Sonoma County and Burgundy: each boast a confluence of river, mountains, and soil that is perfect for growing world-class Pinot Noir.
A recognized authority on biodynamic, organic, and sustainable winemaking, the Boisset Family had been using these eco-friendly practices in their estate vineyards in Burgundy and understood the positive effects they had on the health of the land and the quality of the wine. In 2004 the family brought that vision here to DeLoach Vineyards. Showing our dedication to the environment, we tore up award-winning, highly-lauded vineyards after the 2004 vintage and replanted with cover crops designed to revitalize the soil.
New vines were planted in 2006, and the first vintage grown with biodynamic farming techniques will be the eagerly-awaited 2010 vintage. In the meantime, we continue to produce world-class wine by partnering with winegrowers who are equally dedicated to and passionate about eco-friendly farming practices and the production of high-quality wines of distinction.
Address:
City:
Postcode:
State:
Country:
Phone:
Email: