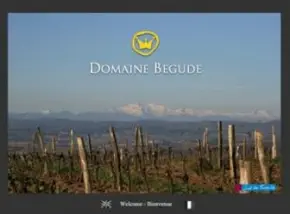 Domaine Begude – Languedoc
About This Vineyard
Domaine Begude is a 25 hectare family-owned historic estate set high in the foothills of the Pyrenees in the Limoux region of the Languedoc. The vineyard was established in the late 16th century and due to its great terroir has always enjoyed a reputation for excellence. Begude is owned and run by English couple James and Catherine Kinglake, whose driving passion is to produce outstanding cool climate wines.
The fruit is of the highest natural quality due to the long growing season and they believe in a healthy, sustainable environment through organic farming. The Begude team is international with a French manager/ winemaker and an Australian consultant winemaker. The result is modern French organic wine, full of fruit, with wonderful natural acidity and a long finish.
The Kinglakes have received much positive press comment, this is what Jancis Robinson said in May 2008: High altitude (350m) vineyards in south-west Languedoc translate into a particularly fine, refreshing Chardonnay. The Kinglakes are also making some very fine special bottlings such as l'Etoile de Begude and l'Esprit de Begude Pinot Noir.
Address:
City:
Postcode:
State:
Country:
Phone:
Email: