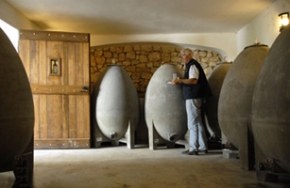 Domaine de Lauzieres – Les Baux de Provence
About This Vineyard
Nestled among rolling hills and olive groves once painted by Van Gogh, Domaine de Lauzières appears to be your quintessential Provençal vineyard — until you step into a peculiar cellar. There are no barrels to be seen, nor any of the stainless-steel tanks favored by some modern vintners. Instead, winemaker Jean-Daniel Schlaepfer ferments his high-end wines there in egg-shaped vessels based on amphorae — the clay jars used by the Romans centuries ago.
Schlaepfer is part of a growing group of producers around France and beyond returning to the wisdom of the ancients in order to achieve the truest expression of a given harvest. Twelve years ago the owners of one of the great vineyards of Switzerland, Domaine des Balisiers in Peney, embarked upon a journey down the river Rhone. On the way they discovered an old manor, in an 80 Hectares valley, in which nothing had ever grown but oaks, vines and olives. They fell in love, they bought, they reformed, they renovated, they reconstructed, they took advice and they made great wine.
This was Jean–Daniel Schlaepfer together with Gerard Pillon, who manages this organic vineyard and is responsible for all viticulture. The organic wines produced here go under the names of 'Equinox', 'Solstice', 'Astérie' and 'Sin Nomine'. The main varietals are Grenache Noir by far, then Syrah, Mourvèdre and Grenache Blanc with smaller parcels of Carignan, Cinsault and Clairette.
No video available for this vineyard
Address:
City:
Postcode:
State:
Country:
Phone:
Email: