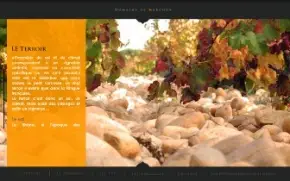 About This Vineyard
Official French records indicate that the Armenier family has been tending vines in Chateauneuf-du-Pape since the 1300's. Today, winemaker-sisters Catherine Armenier and Sophie Estevenin continue to write history with the wines of Domaine de Marcoux. In 1990, the Domaine became the first in the Chateauneuf-du-Pape to implement biodynamic farming practices. Their youngest vines are 40- to 60-years-old, and in short, the sisters do as little as possible to the harvested grapes.
This domaine, as critic Stephen Tanzer put it, is 'the essence of Chateauneuf-du-Pape.' In 2003, Robert Parker named Sophie and Catherine on his list of 'Wine Personalities of Year,' writing, 'Over the last 12 years, the biodynamically farmed vineyard has risen to the top of Chateauneuf-du-Pape's quality hierarchy. The two red wines produced have been stunning, with the regular cuvée of Chateauneuf-du-Pape one of the finest in the appellation, and the limited production Cuvée Vieilles Vignes one of the world's truly magnificent wines.'
And in 2008, Parker writes, 'This brilliant estate in the northern sector of Chateauneuf du Pape is admirably run by Sophie and Catherine Armenier. They continue to fine tune the wines produced at this biodynamically farmed vineyard, and their white Chateauneuf du Pape is now one of the three or four finest of the appellation. Sadly, they only make about 4,000 bottles of this blend of 66% Roussanne and 34% Bourboulenc.
No video available for this vineyard
Address:
City:
Postcode:
State:
Country:
Phone:
Email:
Chemin De La Gironde
Chateauneuf du Pape
84100

France
490 346 743