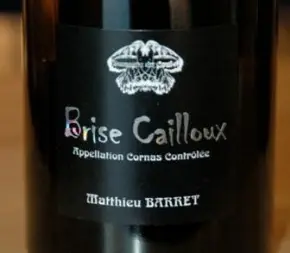 About This Vineyard
'Matthieu Barret represents the future in Cornas. His domaine is, in my opinion, the single most exciting new domaine in the appellation today.' High praise from the Wine Spectator's James Molesworth. Domaine du Coulet was founded by Matthieu's grandfather after WWII, and over the years has supplied organic grapes to some of the best known producers in the Northern Rhône, including Chapoutier and Delas. While his father eschewed the agrarian lifestyle, opting instead for a career in international business, Matthieu knew early on that he wanted to be a vigneron.
In 1998 at the age of only 23, he took over the family's 25 acres of well-situated vines on the terraced hillsides of Cornas. From the beginning, Matthieu has employed natural, organic practices and by 2002 (his second year of production) the domaine received its biodynamic certification. With each vintage, Matthieu has gained a better understanding of his vine parcels and through thoughtful experimentation, he now turns out a remarkable selection of Cornas wines that express the unique nuances of each micro-terroir. No new oak, no racking, minimal use of sulfur and no fining or filtration. Pure, sexy Syrah.
Vinification: 100% de-stemming. Fermentation with indigenous yeasts. Pigéage (punching down) once a day for three weeks. Elevage for three top cuvees takes place in 400 liter neutral barrels (none newer than five-years-old) for a period of 18 months. Brise Cailloux aged in combination of older barrels and cement eggs (600 liters and 1600 liters) Wines are not racked, reducing need for sulfur. No fining or filtration.
No video available for this vineyard
Address:
City:
Postcode:
State:
Country:
Phone:
Email: