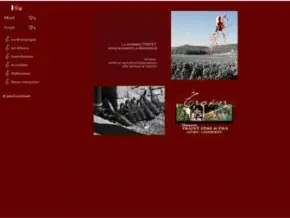 Domaine Trapet Pere et Fils
About This Vineyard
Jean-Louis Trapet has managed the estate since 1995. Their 13 hectares in the Côte de Nuits include some of the finest vineyards in Burgundy. Jean-Louis introduced biodynamic viticulture. Respect for the environment and the local terroirs is central to his approach. Horse drawn ploughs are used instead of tractors in some of the vines.
Jean-Louis is among the most sincere partisans of biodynamic winegrowing. Their parcels of vines in the Petite Chapelle, Clos Prieur and the grands crus Chapelle-Chambertin, Latricières-Chambertin et Chambertin produce finely nuanced wines with distictive natural purety. Gevrey Chambertin wines are subtle, complex and very distinctive.
Steven Tanzer of the International Wine Cellar is a big admirer: 'The soft-spoken, articulate Jean-Louis Trapet has been talking the talk for several years ; now his wines are finally walking the walk. Trapet has taken many important steps to improve quality, beginning in the vineyard. He is a member of a group of young vignerons who, while they do not follow completely organic precepts, have drastically reduced vineyard treatments. Trapet is doing additional pruning to get more sun on his fruit ; previously one had to go up to grand cru level here to to find wines with adequate ripeness. Trapet has also made a host of changes in vinification and élevage : chaptalization has been reduced ; maceration and fermentation have been prolonged, partly by reducing pigeage ; and more new oak is now used. Trapet has been able to eliminate a racking in the past two vintages. Like other Burgundy vignerons who work organically, Jean-Louis Trapet bottles wines that are still alive in a literal sense and thus can truly showcase the soil they're made from. But for this taster at least, the Trapet wines come across as fresher in their youth than most wines made this way. Trapet is fond of saying that he's doing less work in the cellar as his grapes get better. As a rule, he's moving toward gentler extraction: shorter macerations and less frequent pigeages.'
Not only do they produce some of the softest, most interesting wines of the area, nearly every weekend Jean-Louis and Andrée Trapet make the trip from the renowned Trapet estate in Gevrey Chambertin to Andrée's little family vineyard in Alsace. As in Gevrey the vines are grown using biodynamic viticulture. The Trapet Riesling vines are situated at Burgreben (castle vines) and at Hagenschlauf, two vineyards of limestone soils which give the wines pleasant floral and citrus aromas in their youth. Aging brings out their minerality and adds a honeyed, suave touch.
The Trapet family harvests at optimum maturity to ensure high sugar content and maximum natural concentration of the grape juice. The harvest is carefully sorted in the vineyard and again before pressing in the cellars. The best quality Alsace Gewurztraminer is only obtained in the hills below the Vosges, where the climate is right. It is planted on the Trapet estate in the soils of Ritterpfed at Zellenberg.
No video available for this vineyard
Address:
City:
Postcode:
State:
Country:
Phone:
Email:
53 Route De Beaune
Gevrey-Chambertin
21220

France
33 (0)3 80 34 30 40
[email protected]