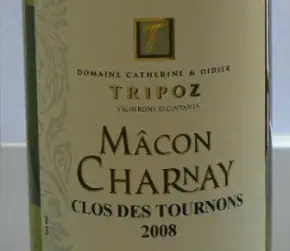 About This Vineyard
In the southern part of the Mâcon region is the charming town of Charnayles- Mâcon. There, Domaine Catherine et Didier Tripoz makes some fantastic expressions of Chardonnay at reasonable prices. They own 10 hectares, planted mainly to Chardonnay, with vines that are between 25 and 65 years of age. They face south/southwest for maximum luminosity, and the soil is full of clay and limestone.
Didier farms organically, regularly ploughing the earth to ensure an active biological environment. Not only does this improve the health of the vineyard, it limits the vigor of the vines and forces them to work harder, concentrating the flavors of their organic wine.
Dider's Mâcon Charnay Clos des Tournons is a beautiful, rich expression of the Chardonnay grape. The wine offers tons of ripe golden and green apples on the nose, with flowery notes and hints of nuts. Similar aspects follow on the palate, with a vivid, bracing acidity that balances the fruit and cleanses the palate. 
Didier also makes a Crémant de Bourgogne. This is a beautiful, Champagne-like wine that is an impressive effort. And it only improves with air, becoming more complex as it breathes, with a lovely finish and great acidity.
No video available for this vineyard
Address:
City:
Postcode:
State:
Country:
Phone:
Email: