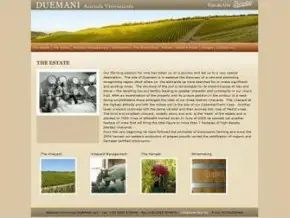 About This Vineyard
Our life-long passion for wine has taken us on a journey and led us to a very special destination. The site of Duemani is in essence the discovery of a new and promising winegrowing region which offers us the elements we have searched for to make significant and exciting organic wines. The structure of the soil is remarkable for its predominance of clay and stone – the resulting low soil fertility leading to greater character and complexity in our vine's fruit.
After an examination of the property and its unique position in the contour of a west-facing ampitheatre there emerged the sites of our three distinct vineyards. The vineyard at the highest altitude and with the richest soil is the site of our Cabernet Franc vines. Another lower vineyard continues with the same varietal and then evolves into rows of Merlot vines. The third and smallest vineyard, notably stony and arid, is the 'heart' of the estate and is planted to 7000 vines of alberello-trained Syrah.
In June of 2005 we planted yet another hectare of vines that will bring the total figure to more than 7 hectares of high-density planted vineyards. From the very beginning we have followed the principles of biodynamic farming and since the 2004 harvest our estate's production of grapes proudly carries the certification of organic and Demeter certified biodynamic.
Address:
City:
Postcode:
State:
Country:
Phone:
Email: