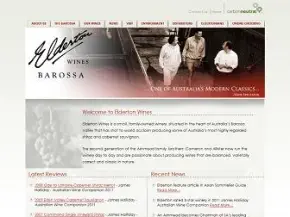 About This Vineyard
Elderton Wines is a small, family owned and operated organic winery, situated in the heart of the Barossa Valley. The Elderton vineyard which was planted in 1894 by Samuel Elderton Tolley, was purchased by the Ashmead family in the late 1970's and started producing labelled bottled estate wine from the 1982 harvest. It was well after a decade of hard work and toil that the winery shot to prominence in the early 1990's, after winning the prestigious Jimmy Watson Trophy at the 1993 Melbourne Wine Show.
There has been an amazing amount of further wine show success including the World's Best Shiraz Trophy at the 2000 London International Wine & Spirits Competition. Elderton has also enjoyed being the darling of the worlds wine press, with great endorsements given by James Halliday, Robert Parker, The Wine Spectator Magazine as well as countless others.
Furthermore, in 2005, Elderton was named in the Top 100 Wineries in the World by Wine & Spirit Magazine. The real strength behind the Elderton success is the ancient 72 acre Barossa Floor Vineyard, which produces organic fruit of the highest quality year in year out. Each block on the property is cherished but the two standouts are the 116-year-old Command Shiraz block and the 66-year-old Ashmead Cabernet Sauvignon block.
The organic wines of Elderton are enjoyed worldwide for their amazing qualities which come through from varietal character, regional definition and the unique and robust personalities of the Elderton team. In 2010, Elderton will celebrate its 31st vintage as a winery and the Ashmeads still believe that the best is yet to come.
Address:
City:
Postcode:
State:
Country:
Phone:
Email: