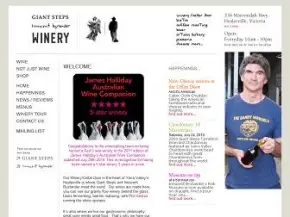 About This Vineyard
Giant Steps, an organic winery, was established in 1997 by the Sexton family soon after they sold their highly successful Devils Lair Winery in Margaret River and moved to the Yarra Valley. Giant Steps is named after the first solo album by John Coltrane, who also made a leap of faith when he split with Miles Davis in the late 1950s. Giant Steps, first released in 2001, focuses exclusively on the distinctive expression of single vineyard sites in the Yarra Valley.
Grapes are drawn from estate and leased vineyards, including the Sexton Vineyard and Tarraford Vineyard; as well as grapes from long-term contracted growers, supported by strong relationships and meticulous supervision throughout the year. These sites include Arthurs Creek Vineyard, Miller Vineyard (Jimmy Watson winner) in Steels Creek, and the Gladysdale Vineyard in the much higher Gladysdale district.
Under winemakers Steve Flamsteed and Dave Mackintosh, the organic wines are vinifed at the specialised gravity-flow, small batch winery in the Yarra Valley's historic town of Healesville. The winemaking process involves minimal intervention and is centered around the utilisation of indigenous micro organisms; finely fingerprinting the personality and character of each site.
Address:
City:
Postcode:
State:
Country:
Phone:
Email:
336 Maroondah Hwy
Healesville
3777
Victoria
Australia
+61 3 5962 6111
[email protected]