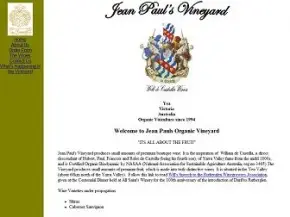 About This Vineyard
Jean Paul's Vineyard produces small amounts of premium boutique organic wine. It is owned by William de Castella, a direct descendant of Hubert, Paul, Francois and Rolet de Castella (being his fourth son), of Yarra Valley fame from the mid 1800s, and is certified Organic/Biodynamic.
With our approach to living we have always believed that we have a responsibility to care for our planet and that it is up to each individual to be accountable for their impact upon the environment. So when it came time to plant our vineyard there was only one course to follow: organics! and today Biodynamics and theories from Permaculture.
The majority of the works studied by Will have been passed down from generation to generation, mostly being written throughout the 1800s, and also used by Wills Great Grandfather (Hubert de Castella). The old text brings the old methods. Our organic farming practices have never included Sulphur and Copper even though these are allowable inputs. We believe the use of chemicals is unnecessary and can only contribute to the continued decline in the health of the planet and its waterways.
All input to our vineyard is natural, and includes the use fertilizers made Biodynamically. Green mulching also helps to create an environment in which natural predators can flourish this in turn helps to keep our vines healthy. We also allow as many different types of grass and other forms of what some may say are weeds to flourish along-side and in harmony with our vines.
Our hands on approach in the vineyard means we are aware of changes in the vines and the fruit, and through this continual monitoring we are always aware of the environment the vines are living in through the four seasons. This in turn has helped us to discover truly distinctive organic wines.
No video available for this vineyard
Address:
City:
Postcode:
State:
Country:
Phone:
Email: