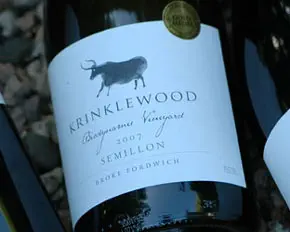 About This Vineyard
Krinklewood Vineyards owners Rod & Suzanne Windrim first planted wine grapes in 1981 in the Hunter Valley. In 1997 the vineyard size was increased to 48 acres on a picturesque property in the Broke-Fordwich region. Krinklewood vineyard is a family owned, biodynamic boutique vineyard, in which every member of the family contributes significantly to the daily operations of the business.
Krinklewood is ideally situated in the beautiful valley of Broke Fordwich, just two hours drive north from Sydney or 20 minutes west of Pokolbin. The 48 acre vineyard is comprised of classic Hunter varieties of Semillon, Chardonnay, Verdelho & Shiraz, with younger plantings including French varieties Viognier and Mourvedre and the popular Spanish variety of Tempranillo.
The white vines are located on a flat bed of free-draining loam soil which is ideal for producing classic Hunter Valley whites, and the Red vines are situated on a gentle slope of clay-loam soil which is well suited to the Shiraz, Mourvedre & Tempranillo.
'Our aim is to make great wine that actually tastes of where it is grown. We use no pesticides or chemical sprays. Our focus is on nurturing our vines to good health, allowing the natural cycle of the season ripen the fruit. This means we are getting great intensity of flavour and a new style of vibrant fresh wines with characteristics that are specific to Krinklewood' says Rod Windrim.
No video available for this vineyard
Address:
City:
Postcode:
State:
Country:
Phone:
Email: