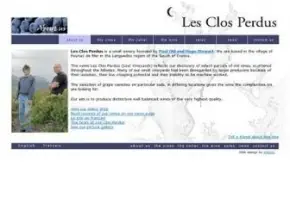 About This Vineyard
Les Clos Perdus is a small organic winery based in the village of Peyriac de Mer in the Languedoc region of the South of France. Founded by Paul Old and Hugo Stewart, Les Clos Perdus (Lost Vineyards) mission is to discover and nurture select parcels of old vines, scattered throughout the hillsides. Many of these small vineyards had been disregarded by larger producers because of their isolation, their low cropping potential and their inability to be machine worked. Their ultimate goal is to produce distinctive well balanced wines of the very highest quality.
The healthy ripe grapes – the result of our careful work in the vineyards – mean that the wine can be left to develop with minimal interference. The grapes are brought into the cellar in small crates. The berries are taken off the stems before being transferred into small vats, where fermentation takes place by the presence of the indigenous yeasts. By meticulously monitoring this process, together with all the other stages of development, we are able to avoid unnecessary intervention. We believe that this allows the wine to be a natural expression of the grapes and terroir. Small vats are used so that each plot and variety can be kept separate. The wine is gently pumped from vat to vat, leaving any sediment behind. This is done with minimal air contact, and where possible when the moon is in the descendant. At this time the sediment is more compact and the risk of losing aroma is reduced, thus keeping the delicate flavour compounds within the wine.
Most of our winemaking processes are labour intensive, using hand operated equipment such as a basket press and plunging poles. This equipment is gentle on the berries and ideal for making small quantities of high quality organic wine.
Address:
City:
Postcode:
State:
Country:
Phone:
Email: