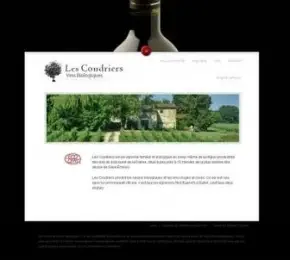 About This Vineyard
Les Coudriers is a family run organic vineyard in the heart of the wine producing centre of south west France, about fifteen minutes from the most famous viticultural town of all, Saint-Émilion. Nick and Liz East have been farming Les Coudriers organically since 2007 and will be certified by Ecocert 2011. Les Coudriers has 3 hectares under vine and is situated close to the historic village of Saint Michel De Montaigne, which is also the location of Organic Wine Find! 
Their 2007 red, which is a blend of Merlot, Cabernet Sauvignon and Cabernet Franc is rich in cherry and blackcurrant, with a delicious fruity, yet meaty nose. The 2009 Red that they've bottled so far without sulphur is still young but has great potential. I'm really looking forward to seeing how it matures once its been on oak for a while. They also make a very interesting and unusual dark, yet sweet, full bodied rose. Its a delicious summer wine served chilled and I'm hording the last case of 2009, it has been so popular!
Nick and Liz are currently only selling in France but would be interested in approaches from distributors interested in expanding their reach.
No video available for this vineyard
Address:
City:
Postcode:
State:
Country:
Phone:
Email: