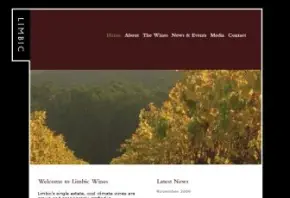 About This Vineyard
Limbic's single estate, cool climate organic wines are grown and passionately crafted in Pakenham Upper in South Eastern Victoria just 75km from Melbourne. Since our first release in 2003, Limbic wines have received critical acclaim in Victoria and Australia and recognised for their quality and character. 
Adjoining the Gippsland Zone, Limbic is nestled in the lush, rolling hills of Pakenham Upper, south of the Yarra Valley and north east the Mornington Peninsula. Established in 1997, with small plantings of Chardonnay and Pinot Noir, Limbic has grown rapidly with further plantings in 1998, 2001 and 2004. Chardonnay now covers 1.8 hectares of our property whilst Sauvignon Blanc accounts for 1.3 hectares, our largest planting is 3.1 hectares of the Burgundian variety Pinot Noir.
We always recognised that to produce truly premium wines we would require fully mature vines, so we waited, experimented and developed an understanding of the way our fruit, soil, climate and environment behave, hence our first commercial release was not until the 2003 vintage. At Limbic we practice biodynamic vineyard management, avoiding the use of chemicals and their impact on our fragile environment. We embraced a natural and integrated approach to pest management early in our development aiming to eliminate all non-organic pesticide use. The adoption of biodynamic practices in 2004 has further improved vine health and disease resistance.
No video available for this vineyard
Address:
City:
Postcode:
State:
Country:
Phone:
Email:
295 Morrison Rd
Pakenham Upper
3810
Victoria
Australia
+61 359 427 723
[email protected]