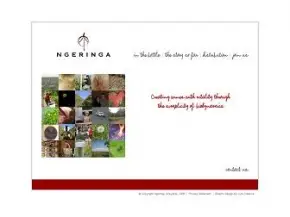 About This Vineyard
A new organic vineyard in an ancient place with a powerful philosophy entwining them…. Situated below the Mount Barker summit in the Adelaide Hills, South Australia, Ngeringa is tended by the overlooking mystique of the rocks that are the Mount Barker and the traditional lores that surround them. Nourished through the simplicity of biodynamic farming practices, we believe Ngeringa carries an energy which identifies its individuality and sense of place.
With 5 hectares of vines planted across 2 vineyard sites (Mt Barker Springs and Nairne), 4 hectares of olive grove, a small herd of Scottish Highland Cattle, sheep, chickens, ducks & guinea fowl, hay pastures, revegetation areas and an enormous vege garden, the ideal of achieving a closed farm unit is well on the way.
Our approach to both the growing and the making of the wine is purposely traditional, doing much in the vineyard by hand and being as least interventionist in the winemaking as possible. We are aiming to create organic wines of a traditional style with elegance and structure. Our minimalist approach favours hand harvest and small batch winemaking, only wild fermentation and the use of minimal new (French) oak. We hope the result is wine with vitality and integrity, genuinely expressing the organic fruit from which it was made.
No video available for this vineyard
Address:
City:
Postcode:
State:
Country:
Phone:
Email: