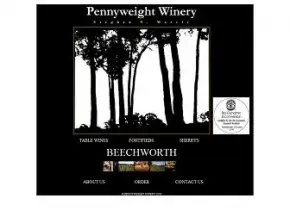 About This Vineyard
Pennyweight Winery was established by Stephen and Elizabeth Morris in 1982. Stephen Newton Morris, winemaker at Pennyweight Winery, and owner with his family, has had his skills passed down from great-grandfather, George Francis Morris, who established the first Morris winery at Rutherglen in 1860. 
The Morris family pick by hand in the cool hours of the morning, carefully lowering the organic grapes into buckets that are taken straight to the winery for processing. The Pennyweight wines rest in the dark in oak casks, some of them brought out from Spain in the 1930s. Stephen Morris is proud of Pennyweight's organically-grown, luscious fruit, grown in a superb Beechworth climate, and takes unbelievable care that true wine bouquets and unique flavours are locked away in each bottle.
Pennyweight Winery is a warm, friendly, family winery, managed by Stephen and Elizabeth and their three sons, Frederick, Stephen and Charles.
No video available for this vineyard
Address:
City:
Postcode:
State:
Country:
Phone:
Email:
Pennyweight Lane
Beechworth
3747
Victoria
Australia
(03) 57 281 747
[email protected]