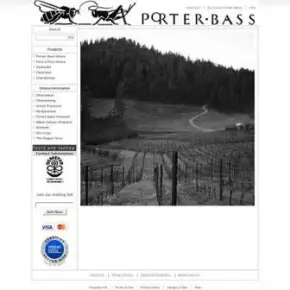 About This Vineyard
At Porter-Bass balanced and elegant wines are made in the vineyard. To achieve this balance an understanding of the land, climate and vines is crucial. Porter- Bass Vineyard is blessed with a cool climate that allows the grapes to grow and mature in an even manner. Careful organic farming helps to keep the vines healthy and balanced. By anticipating upcoming weather patterns, adjustments can be made to compensate for extreme conditions. 
In the winemaking the human influence is limited as much as possible. When the grapes arrive at the winery they ferment with indigenous yeasts. This will impart a greater sense of place in the wine. In the red wines the fruit is not crushed, only the stems are removed, leaving the whole berries. This gives a slower start to the fermentation and results in a greater expression of fresh berry fruits. The goal is to preserve the fresh, fruit flavors in the wine.
As the wine ages it gains complexity but does not suffer from the premature aging that comes with over-ripe fruit. Gentle handling of the wine, using gravity flow, and minimizing the use of machines in production helps to preserve the vitality of the wine. The amount of new oak is limited to less than 40 percent. We use only carefully selected French oak in the production of our wines. The finer tanin structure of French Oak integrates better with our wines than does American Oak. The organic wine is bottled unfined and unfiltered.
No video available for this vineyard
Address:
City:
Postcode:
State:
Country:
Phone:
Email: