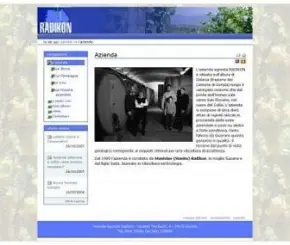 About This Vineyard
The town of Oslavia, on a relatively tiny stretch of hills north of the border town of Gorizia in the Isonzo zone of Friuli, is home to a number of talented and individualistic wine makers. The vineyards were originally planted by Stanko Radikon's grandfather Franz Mikulus with the local favorite, the Ribolla Gialla grape. In 1948, Stanko's parents, who had inherited the property from his mother's father, planted Merlot, (Tocai) Friulano and Pinot Grigio.
Today, Stanko, his wife, Suzana and son, Sasa maintain their family's land. When asked how he came to make the wines he does– golden wines, rich with complex fruit aromas, notable for their length in palate and ability to age. Stanko simply said, 'It's how my grandfather made wine in the 30's', and shrugged. Radikon explains on their website:  'The winery's philosophy is to always make a natural, organic wine with the least human intervention possible and with the maximum respect for the soils and nature. 
In the vineyard, the vines are planted extremely tight (between 6. 500 to 10,000 plants per hectare). We do not use any chemicals or synthetics and the treatments using absolutely innocuous, non-harmful products are minimized. Through careful pruning and selection at the time of harvest, the hand harvested yields are kept well below 2.25 tons per acre. In the cellar, the grapes are de-stemmed and then macerated on the skins for 30 days more, with experimentation of 6/7 months for the whites, and 35 days for the reds. The pressing is done softly using a pneumatic press. All phases of the vinifications are in Slavonian oak barrels, first in wood vats and then in large barrels in which the wines are aged for about 3 years before bottling. The vinifications are done using only the natural yeasts present on the grapes. There is no sulfur added at vinification or bottling.
No video available for this vineyard
Address:
City:
Postcode:
State:
Country:
Phone:
Email: