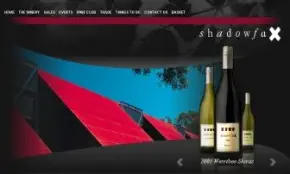 About This Vineyard
Shadowfax's winery is located in the rather grand setting of Werribee Park, halfway between Melbourne and Geelong in Victoria. There is a very intelligently designed winery here and a small vineyard, alongside one of the world's leading hotels, Mansion Hotel, a wildlife zoo and a polo park. The proximity of the horses suggested the name, Shadowfax, the magical steed of Tolkien's wizard, Gandalf.
Shadowfax's own small vineyard provides some fruit but much is sourced from elsewhere in Victoria, matching key grape varieties with premium regions (such as Pinot Noir from Geelong and the Yarra Valley; Shiraz from Heathcote) while some fruit also comes in from South Australia on the same principle.
Shadowfax has been producing some stunning wines thanks to Kiwi winemaker Matt Harrop and Shadowfax is fast becoming one of Victoria's most prestigious wineries. 
No video available for this vineyard
Address:
City:
Postcode:
State:
Country:
Phone:
Email:
K Road
Werribee
3030
Victoria
Australia
61 3 9731 4420