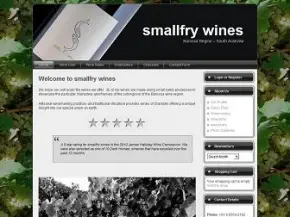 About This Vineyard
Small in name but big on character, Smallfry's organic wines are made using small batch processes to showcase the particular flavours of the sub-regions of the Barossa wine region. Winemaker Wayne Ahrens rebels against the increasingly corporate wine industry by using artisanal winemaking practices and traditional viticulture to produce the kind of wines he's proud to share with others.
If I went down in a time tunnel to medieval times, I like to think I could still make a good wine without modern help-technology, he says. Wayne and his wife Suzi both grew up on vineyards. Wayne now sources his organic fruit from his own 10-year-old Eden Valley vineyard as well as from older vines from the neighbours and from the Barossa floor.
One of the Barossa's so-called 'garagistes', Wayne makes his luscious organic red wines in the garage of the old bank building he and wife Suzi call home in the historic Barossa town of Angaston. (The whites need advanced equipment so they're made at Rocland, a Barossa Valley wine-making facility). The tough micro-climate of Eden Valley produces great fruit, he says, leading to limey Rieslings with steely acid; raspberry and cassis Cabernet and terrific, peppery Shiraz.
No video available for this vineyard
Address:
City:
Postcode:
State:
Country:
Phone:
Email: