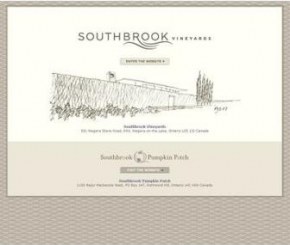 About This Vineyard
Southbrook Vineyards is the evolution of Marilyn and Bill Redelmeier's love story with wine, the land, and all things 'local.' Building on decades of farming experience in Richmond Hill, Marilyn and Bill added a winery to their farm market there in 1991, and quickly built a reputation for producing exceptional, ageable wines.
The excitement ramped up in 2005 when they made the decision to invest their passion in a new vineyard in the heart of Ontario wine country in Niagara-on-the-Lake. Marilyn and Bill have attracted an accomplished team of wine lovers and creators to this project, including gifted winemaker Ann Sperling. The decision to become grape growers has allowed the Redelmeiers to pursue the methods that ensure the highest quality wine from Southbrook, and that provide a benefit to the land and the people who work it.
This commitment and leadership has resulted in Southbrook achieving in 2008 both organic and biodynamic certification for its vineyard and winery – the first wine estate in Canada to earn this honour.
Address:
City:
Postcode:
State:
Country:
Phone:
Email:
581 Niagara Stone Road
Niagara-On-The-Lake
L0S1J0
Ontario
Canada
905.641.2548
[email protected]