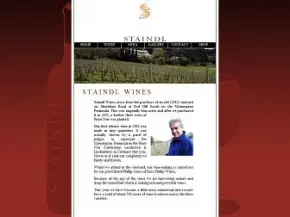 About This Vineyard
Staindl Wines arose from the purchase of an old (1982) vineyard on Shoreham Road at Red Hill South on the Mornington Peninsula. This was originally four acres and after we purchased it in 2002, a further three acres of Pinot Noir was planted. Our first release wine in 2004 was made in tiny quantities.
It was actually chosen by a panel of judges to represent the Mornington Peninsula in the Pinot Noir Celebration conducted at Lindenderry. However it sold out completely to family and friends.
Whilst we attend to the organic vineyard, our wine-making is carried out by our good friend Phillip Jones of Bass Phillip Wines. Because of the age of the vines we are harvesting mature and deep flavoured fruit which is making rich and powerful wines. This year we have become a little more commercial and so now have a total of about 500 cases of wine to release across the three varieties.
No video available for this vineyard
Address:
City:
Postcode:
State:
Country:
Phone:
Email: