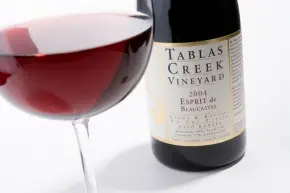 About This Vineyard
Founded by Jean-Pierre and Francois Perrin of Chateau de Beaucastel and importer Robert Haas, Tablas Creek produces estate-grown, internationally recognized Rhone varietals and Chateauneuf-du-Pape style blends from grapes including Syrah, Mourvedre, Viognier and Roussanne.
Tablas Creek is operated in much the same way as Chateau de Beaucastel, with a certified organic vineyard, an emphasis on wines of elegance and minerality, and an ongoing spirit of experimentation.
However, for all its reliance on the expertise and experience of the French vineyard, Tablas Creek Vineyard is not trying to be a clone of its older cousin. According to Winemaker Neil Collins, when people taste Beaucastel, they know it's Beaucastel. I would hope that people will taste Tablas Creek and know it's Tablas Creek.
The focus on terroir means a hands-off approach throughout the winegrowing and winemaking process. The organic vineyard is largely dry farmed. The grapes are fermented using indigenous yeast. Wines are aged in a balance of stainless steel and neutral French oak barrels to allow the subtleties to show through. And, perhaps most importantly, all Tablas Creek wines are made 100% from fruit grown on the estate.
This site was chosen for the soils and the climate, said Collins. After we've made all this effort in the vineyard to let the grapes express themselves, why would we want to express someone else's yeast or barrel making? We want the most intense expression of the grape varieties and soil that we can get.
The vineyard's signature red wine is the Esprit de Beaucastel, a richly intense wine based on Mourvedre, with its signature flavors of red fruits, cocoa, roasted meats, and spice. The signature white Esprit de Beaucastel Blanc, based on Roussanne, is honeyed yet fresh, with flavors of pear, honeysuckle and anise. Both wines have received numerous awards, including year-end Top 100 recognition from the Wine Spectator, Wine Enthusiast, Wine & Spirits, and the San Francisco Chronicle.
Also be sure to try the Cote de Tablas and Cote de Tablas Blanc wines, both blended for clean, bright fruit and spice flavors, and ready to drink younger than the Esprits.
Address:
City:
Postcode:
State:
Country:
Phone:
Email: