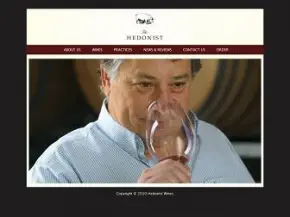 The Hedonist – Walter Clappis
About This Vineyard
The Hedonist organic wines are made by Walter Clappis, a well known Australian winemaker who is a leading exponent of biodynamic and sustainable viticulture. Walter's partner is his winemaker daughter Kimberly. The Hedonist's vineyard is the 88 acre Winterfold vineyard in the hills above Willunga in the southern, more ocean-cooled sector of McLaren Vale in South Australia.
The Hedonist range is an [Unoaked] Chardonnay, a Shiraz and a Cabernet Sauvignon. The reds are labelled Biodynamic however the Chardonnay is not as a portion of the blend is sourced from a vineyard that is not yet certified biodynamic, although it is currently farmed biodynamically.
Biodynamic practices are central to the Hedonist's Willunga vineyards. You can sense the care and hand tending as soon as you see the verdant vines. The Hedonist wines tingle with life and are beautifully balanced for current drinking or for medium term cellaring. There is opulent, glossy ripefruit across all of the wines, but enough acidity, structure and finesse to enjoy them with our without food.
No video available for this vineyard
Address:
City:
Postcode:
State:
Country:
Phone:
Email: