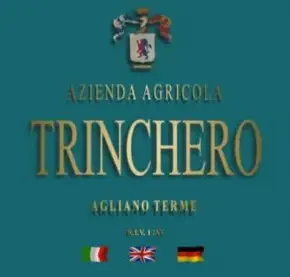 About This Vineyard
The Trinchero estate is a Barbera specialist located in the Asti hills in the hamlet of Vianoce. The winery is based in the early nineteenth century complex of Agliano Terme, which has been in the Trinchero family since the 1920s. The Trinchero brothers, Secondo and Serafino began the winery at this time, and have passed on the reigns to their sons, Renato and Ezio Trinchero.
Specializing in Barbera in much the same way as the late Giacomo Bologna did, the cousins Trinchero now make one of the longest-lived and most profound examples of Barbera to be found in all of Italy. And like Giacomo Bologna, the Trinchero family believes that the underrated Barbera grape is a variety capable of producing wines of profound complexity and serious longevity, if cultivated from old vines in top sites and vinified to allow graceful evolution in bottle. With this in mind, the Trincheros farm all of their vines organically and are extremely meticulous with their viticulture.
Ezio Trinchero is a close friend of Giampiero Bea of Paolo Bea in Montefalco, and the wines of both estates share a similar style and rustic soulfulness. The flagship Barbera from the Trincheros is their Barbera d'Asti 'Vigna del Noce', which was planted in the hills of Asti in 1929. The old vines, coupled with short pruning produce only thirty-five hectoliters per hectare in the vineyard, and the resulting organic wine is as fine and example of Barbera as one will find. The wine is treated like a top Barolo, as it is given a forty-five day maceration during the fermentation, and then aged at least two and a half years in large, old oak botti prior to bottling.
The Trincheros hold the wine back in bottle at least another six months prior to its release, and it is capable of aging very well for twenty to twenty-five years after its release. A recently tasted bottle of the 1982 Vigna del Noce clearly demonstrated just how long-lived this wine can be, as it was fresh, young and succulent, with impressive complexity and the depth and palate presence more typical of a Barbera from a vintage in the late 1990s. Again one immediately thinks of the fine Barbera 'Bricco dell'Uccellone' or Suma bottlings from Giacomo Bologna as the only reference point for the Trinchero Vigna del Noce. It is clearly amongst the finest examples of Barbera made in Italy today.
Address:
City:
Postcode:
State:
Country:
Phone:
Email: