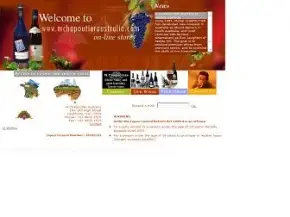 About This Vineyard
Michel Chapoutier has long seen the cooler growing regions of Australia as an ideal template on which to develop his biodynamic philosophy. Since 1998, M. Chapoutier's Tournon Estate in Mt Benson, South Australia, has been producing 'Rhone style' Syrah plus a Cabernet Sauvignon on the red brown soil of this cool viticultural area.
Low yields and traditional French vinification has produced powerfull yet elegant organic wines, ideal for both cellaring and accompanying food.
But this was just the start… Two joint ventures were on the horizon, firstly with Ron Laughton from Jasper Hill, then with Trevor Mast. Five years ago, Michel and Ron planted new vineyards on the Cambrian soils of Heathcote in Central Victoria under the biodynamic philosophy. Both were excited about the use of original Syrah/Syrah cuttings taken from the hillside of Tain l'Hermitage in the Northern Rhone. The source vineyard in Hermitage was one of the few that survived phylloxera in the early 1900's, making the donor vines 80-100 years old.
Quarantined in Australia and then propagated without the use of rootstock, the vines were planted alongside 'Australian' Syrah to produce a 'best of both worlds' vineyard. The first crop from this unirrigated vineyard was recently hand harvested, the fruit believed to be worthy of a first vintage release.
Fermented in open concrete tanks with a long fermentation and maceration, the wine is now ageing in four year air dried French barrels made especially for it. We all look forward to releasing this organic wine in a couple of years. So successful has the partnership between Ron Laughton and Michel Chapoutier been, that an opportunity of a joint venture in the Roussillon region of southern France is in full swing, with the recent purchase of a small 100 year old Carignan planting. Stay tuned for the first wine.
Three years ago, Michel Chapoutier, Trevor Mast and M. CHAPOUTIER's distributor in USA, Paterno Imports, invested in 100 acres of land in the Victorian Pyrenees. The land, called 'Malakoff', is now planted to Syrah and Viognier. A trial batch has already been vinified by Trevor which gave an amazingly high quality wine, providing the foundation for producing an exceptional world class organic wine in the next 5 years.
M. Chapoutier will continue to push the boundaries of winemaking and grape growing both in France and in Australia. The goal is to produce Syrah from cool climate terroir, combining the skills of top Australian Vignerons with the experience of the Rhone Valley.
No video available for this vineyard
Address:
City:
Postcode:
State:
Country:
Phone:
Email:
141-143 High Street
Heathcote
3523
Victoria
Australia
+03 9602 1570
[email protected]