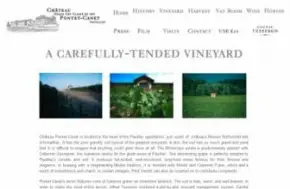 About This Vineyard
The vineyards of Pontet-Canet are not difficult to spot; examine any map of the Médoc and you will find, lying just northwest of the town of Pauillac itself, a large conglomeration of Rothschild vineyards which include Duhart-Milon, Clerc-Milon and d'Armailhac – not to mention the premier cru classé estates of Lafite-Rothschild and Mouton-Rothschild. These are illustrious neighbours for the Tesserons, who own Pontet-Canet, the great swathe of vineyards directly to the south, in a prime position on the plateau of Pauillac, on typical soils of Quaternary gravel over clay and limestone.
The organic estate has 120 hectares, of which two-thirds is planted to vines averaging 35 years of age at 9000 vines per hectare, with a mix of 60% Cabernet Sauvignon, 33% Merlot, 5% Cabernet Franc and 2% Petit Verdot. And these 80 hectares of vines have seen more than their share of innovation in the past two decades, going far beyond the drama of a few bunches of verdant green grapes squashed underfoot.
Together Alfred Tesseron and Jean-Michel Comme have taken Pontet-Canet from good-value over-performer to high quality challenger to the super-second tier, and much of the work that has taken them there has been in the vineyard. Perhaps most remarkable has been the estate's conversion to biodynamics, the only classed growth estate to make this leap, although it surely cannot be too long before others follow suit. The process began in 2004, led by Comme, on just 14 hectares of the vineyard, and in 2005 they expanded the practises so far employed to the whole vineyard, an incredible shift in philosophy and commitment, even for an estate that was already running along organic lines.
Address:
City:
Postcode:
State:
Country:
Phone:
Email: