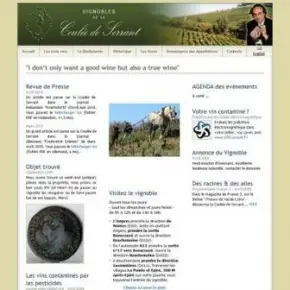 Clos de la Coulee de Serrant
About This Vineyard
'Making organic Chenin Blanc is like raising a difficult child,' states Nicolas Joly. He ought to know. Joly's estate, Coulée de Serrant in the Savennières appellation of France's Loire Valley, has been producing world-class Chenin Blanc for centuries. The Clos de la Coulée de Serrant was first planted by Cistercian monks in the 12th century, and today it's one of those rare French microappellations–like the Rhône's Château Grillet or Burgundy's Romanée-Conti.
Joly actually produces wine from three different Savennières vineyards: Becherelle, Roche aux Moines Clos de la Bergerie and Coulée de Serrant Clos de la Coulée de Serrant, with the Coulée de Serrant generally considered to be his top wine. This biodynamic vineyard features a southern exposure with a steep slope and old vines (some still on ungrafted rootstock) that average about 20 to 25 hectoliters per hectare (1.5 to 1.8 tons per acre).
Nicolas Joly is one of the pioneers of the biodynamic wine movement and runs the "Return To Terroir" association that has unified biodynamic wine producers from around the world.
Address:
City:
Postcode:
State:
Country:
Phone:
Email:
Château de la Roche aux Moines
Savennières
49170

France
0033 (0)2 41 72 22 32