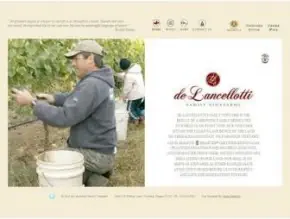 De Lancellotti Family Vineyard
About This Vineyard
In 1998, Paul and Kendall purchased property in the area near Chehalem Mountain on well-known Calkins Lane, home to a number of outstanding Oregon wineries including Adelsheim. There they planted a fledgling vineyard that initially produced organic grapes destined for Bergstrom wines, but have since become the foundation for wines bearing their own label – deLancellotti Family Vineyards.
Buying the vineyard property marked the beginning of a transition for Paul, who had been contemplating a career change for some time. ' I'd been talking about leaving my sales job for years, because I traveled three weeks out of every month.' He finally took the plunge two years ago, and now works full time growing the deLancellotti Family Vineyards operation. 'I'm busier now than I ever was before,' he'll tell you, though he's clearly thrilled to be this kind of busy.
One hallmark of deLancellotti Family Vineyards is their commitment to stewardship of the land. In 2004, they received Biodynamic certification for the 27 acre vineyard. Certification is a complex process involving a commitment to the land and to the cycles of nature, as well as to strictly regulated winemaking practices. Both the Bergstrom and deLancellotti Family Vineyards operations were the first two vineyards in the Willamette Valley to be certified Biodynamic.
Using France's great Burgundies as his benchmark, Paul deLancellotti aims to bring subtlety and elegance to his signature Pinot Noirs. 'I want to make an elegant style wine, but also a style that shows off the great fruit characteristics that this soil is capable of.' Combining Pinot Grapes with Pommard, he's creating great red wines that age gracefully. deLancellotti enthusiasts should look for an Estate Chardonnay in the coming years as the family's Chardonnay grapes come on line.
No video available for this vineyard
Address:
City:
Postcode:
State:
Country:
Phone:
Email: