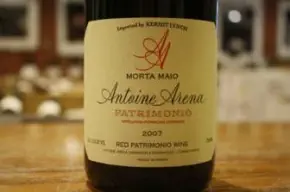 About This Vineyard
Domaine Antoine Arena may well be the premier wine from the island of Corsica. Almost all of it is sold to the top wine shops in Paris. The locals in Corsica aren't very familiar with it and can't drink it, as it's not available there. It's so rare on Corsica that on those occasions when it's actually available in the island's shops, fights have arisen among people who are desperate to drink it.
The wines of Corsica are made of an interesting mix of grape varieties from France and Italy. They are no more characteristic of one nation's wines than the other. Instead, they are a curiously delicious blend of the best of both worlds. In his book, The New France, Andrew Jefford writes 'Arena is a jovial man who produces an astonishing range of wines from modest and rather jumbled cellars in Patrimonio. He and his wife Marie began their working lives by training to be lawyers, but switched to wine. Arena says, 'because it's such a beautiful job.'
Arena's work completely rewrites the rule book for Vermentinu (Vermentino): made this way, it can happily stand comparison with Pinot Gris or Viognier. His 2000 Carco, for example, billows with scents of bacon and banana, in the mouth it is plump, luscious and exotic. The 1999, with a year on its fine lees, is a creamier, subtler wine with salty-sweet edges. The 2000 Grotte di Sole Vermentino, which has reached about 16.5% alcohol before giving up fermenting, is honeyed, oozing fruit – as is a November harvested 1999 version packed with apricot and fig.
The ever–curious Arena is also working with an old Corsican variety called Bianco Gentile: his 2000 cuvée was picked at 16% potential alcohol, and is a massive and exotic confection of tropical fruits, honey and melon, with a salty fire at its heart, too. Arena also uses the Carco and Grotte di Sole names for his Nielluccio-based (Sangiovese) reds. The Carco, a so-called vin de soif, is vivid with raspberry fruit; the Grotte di Sole, produced from lower yields, combines something of the bitter-edged sophistication of Tuscany with explosive fruit and mineral flavours.'
No video available for this vineyard
Address:
City:
Postcode:
State:
Country:
Phone:
Email:
Morta Maio
Patrimonio
20253
Corsica
France
04 95 37 08 27