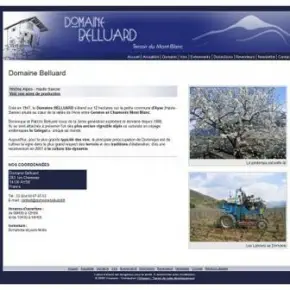 About This Vineyard
The vineyards of Domaine Belluard are situated in Ayze in the Haute-Savoie. They rise to about 450m above sea level and from them you can see the spur of the Alps. The vineyard covers 12 hectares (30 acres). Dominique and Patrick Belluard are dedicated to preserving the grape variety Gringet, a unique and ancient alpine variety. The Gringet was previously thought to be Savagnin, the famous grape of Jura, but ampelographical testing suggests that it is, in fact, an older variety. Now the grape has virtually disappeared from Savoie with only Belluard holding any significant quantities: a mere 8ha.
Dominique cultivates the vines with great regard to the land and the traditions of the area. Since 2001 the vineyard has been organic. Some of the vines are planted on the flat grounds near the winery, others terraced on the steep inclination of the exposed south-facing hills behind including some on Terre Feu, a red scarred, mineral-rich subsoil composed of glacial sediments and moraines (continuous linear deposits of rock and gravel). The Alpine climate ensures a big temperature difference between day and night, ensuring both physiological maturity in the grapes as well as good acidity. 
Dominique is a serious proponent of biodynamic viticulture. He speaks all of the time of 'balance' with regard to the vine and its environment, the relationship of the plant and the cosmos and that the preparations given to the plant are to enable it to find this balance. His wines are fantastically pure, especially the mineral Gringet from the Terre de Feu terroir. No malolactic fermentation — the fruit is beacon-bright, crystalline and the acidity sings. The wine conveys initial aromas of white flowers and jasmine, is citrus-edged with a hint of white peach, jasmine and violet and a twist of aniseed to finish.
No video available for this vineyard
Address:
City:
Postcode:
State:
Country:
Phone:
Email: