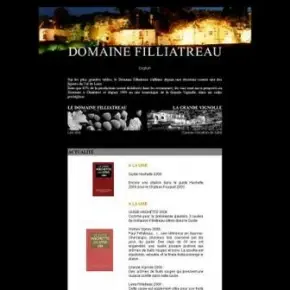 About This Vineyard
Domaine Filliatreau is the largest single estate in the Saumur-Champigny appellation, and it is significant in terms of quality as well as size. Currently run by father-and-son team Paul and Frédrik Filliatreau, it is Paul that has pushed the envelope, constantly innovating and improving the organic wines during his tenure, bringing Domaine Filliatreau to the head of the Saumur-Champigny pack.
Paul first took on a major responsibility in the family business when he took over the running of a 8 ha portion of the domaine from his father, Maurice, back in 1967. At the time the wines of Saumur were more likely to be rosé than red, and those that were red were clearly not of the quality that can be found today. As Paul took on more and more of the domaine, he built a new cellar and installed stainless steel temperature-controlled fermentation equipment. Quality was pushed up, and Paul traveled widely, raising not only the profile of Domaine Filliatreau but of Saumur as a whole.
Paul and Frédrik, who joined his father in 1990, now extol a considerable 40-plus ha of organic vineyards (easily matching the size of many Médoc properties). They turn out a number of special cuvées, and indeed Domaine Filliatreau was the first to bottle separate expressions of Saumur-Champigny in this fashion.
No video available for this vineyard
Address:
City:
Postcode:
State:
Country:
Phone:
Email: