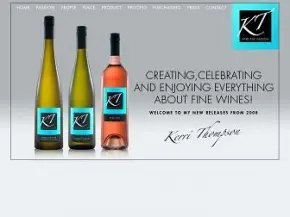 About This Vineyard
KT is Kerri Thompson, a talented winemaker with a passion for Riesling and the Falcon is viticulturalist Stephen Farrugia. Kerri worked with Leasingham in the Clare for 8 years, and is now winemaker with Crabtree. KT and The Falcon are now doing about 1000 cases a year, most of which is Riesling, but there's also a Shiraz.
Vineyards are managed organically with some biodynamic preparations being used. Kerri says that using biodynamics, she's harvesting a week or two earlier, with lower alcohols, even though picking is by flavor.
Kerri says, We have lived and worked as winegrowers in the Clare Valley for the last 9 years and are passionate about the opportunities it presents. The region has a strong track record for the quality production of Riesling, Shiraz and Cabernet Sauvignon and it is our intention to produce hand crafted wines which represent the terroir and ideal grape growing climate that Clare affords. We are adopting sustainable natural farming practices, including biodynamic principles, to harness the energy of the environment in which the grapes are grown and to ensure the most balanced production of grapes and wine.
The KT and The Falcon 20 acre farm is located between the towns of Watervale and Leasingham in the Clare Valley and is planted to Riesling and Shiraz. In addition to estate grown fruit, KT and the Falcon source naturally farmed grapes from the Watervale Peglidis and Churinga Vineyards. These vines range in age from 10 to 70 years old and are a high quality fruit resource. Our passion is to produce and work with grapes that have full expression and a sense of place.
"
Address:
City:
Postcode:
State:
Country:
Phone:
Email: