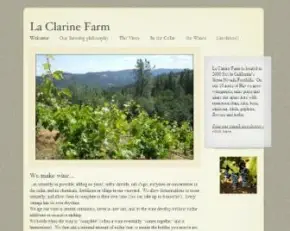 About This Vineyard
When we started La Clarine Farm, we quickly adopted biodynamic principles, as laid out by Rudolph Steiner early in the 20th century. We were intrigued by its viewpoint that a farm should be self-sufficient and that the farm, like nature, should be considered in its entirety and not just piecemeal. We practiced what might be called 'classical' biodynamics for a number of years while we learned more about how it functioned.
After a time, we realized that many of the ideas and methods of biodynamics were geared toward annual cropping systems, and that many of the much touted aspects of biodynamics, such as planting calendars, seemed to have little effect for our perennial crops, such as grapevines and our goat herd.
Perennial plants take in the year in its entirety, and change throughout the seasons. They eventually become a summation of many years and patterns. Slowly, we backed away from classical biodynamics toward what might be called 'advanced' ideas in biodynamics; we began applying the preparations via homeopathic dilutions from GW Agriculture (real homeopathy, not what most biodynamic practitioners call homeopathy). The results were startlingly better.
Whole cluster fermentation, native yeasts, no new oak barrels, minimal SO2 use at bottling.
No video available for this vineyard
Address:
City:
Postcode:
State:
Country:
Phone:
Email: