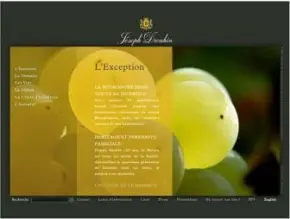 About This Vineyard
Joseph Drouhin has three wineries: one in Beaune (its headquarters), one in Chablis, and, since 1988, a third in Oregon's Willamette Valley. Unlike other large negociants (producers who buy and sell grapes and wine while also owning their own vineyards), Joseph Drouhin specializes only in the two Burgundy grape varieties–Pinot Noir and Chardonnay–with the one exception of Beaujolais (made from the Gamay variety). Also, about half of Drouhin's wines are domaine bottlings, which is to say that they are sourced from Drouhin's own estates.
Joseph Drouhin, the company's founder, began his winery in Beaune in 1880. His grandson, Robert Drouhin, the current patriarch, probably deserves the most acclaim for making his firm the Burgundy leader that it is today. Robert headed Maison Joseph Drouhin from 1957 until he 'officially' retired in 2003, although he remains Chairman of the Board.
Among his more momentous moves–which include abandoning the use of chemical fertilizers in the vineyards and not filtering his wines in almost all cases–Robert Drouhin was among the first producers in France to appoint a woman, Laurence Jobard, as oenologist/ winemaker, in 1976. Laurence remains chief oenologist today. Today, Drouhin follows biodynamic principles in the vineyards they own; organic farming is being practiced throughout all Drouhin properties.
Address:
City:
Postcode:
State:
Country:
Phone:
Email: