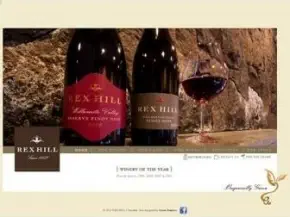 About This Vineyard
In the 1920's, agriculture was booming in the lush Willamette Valley. Prune, pear, apple, walnut and hazelnut orchards quilted the hillsides, and dozens of independent fruit and nut drying facilities rolled in cart after cart of goods to be dried. Over the years, production grew. Transportation of fresh fruits and vegetables became possible. Agriculture became agribusiness. By the late 1960's, many of the independent driers in the area had closed their doors.
One defunct drier on REX HILL in Newberg Oregon became home to a pig farm and a commune before it was finally left empty in the late 1970's. Paul Hart and his wife Jan Jacobsen came along in 1982 and fell in love with that poor building– but they fell even harder for the hillside on which it sat. It was perfect, they knew, for a new kind of Willamette Valley farm: the vineyard. They cleared out the barn, invited their friends to celebrate, and planted Pinot Noir.
Over the next two decades, they added on a little here and a little there and the winery grew along with the vines. In 2007, when Paul and Jan were ready to retire, they didn't sell to a big wine conglomerate. They handed the keys to the founders of A to Z Wineworks– another family owned Oregon winery. Bill and Deb Hatcher, Cheryl Francis, and Sam Tannahill took over as stewards of this phenomenal piece of Oregon. The legacy of the land is alive at REX HILL.
You can see the original tunnels into which the carts of drying racks were rolled, but you'll also see the new tools of the trade: French oak and stainless steel barrels, wine presses, in-house laboratory and bottling line, temperature controlled fermentation and blending tanks, a state of the art cross-flow filter. As we tend to the existing farm, we have put down a few roots of our own– alongside the original fruit and nut drier sits a new energy-efficient building to house us as we continue to grow. Here's to the rebirth of the Oregon family farm!
Address:
City:
Postcode:
State:
Country:
Phone:
Email: