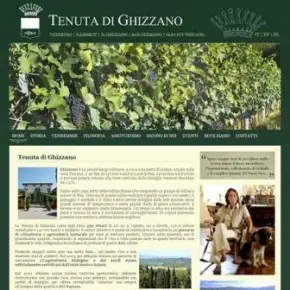 About This Vineyard
Ghizzano is a small hillside village about 200 metres above sea level, located on the Tuscan coast, 40 km from Livorno and 40 km south of Pisa. The winery and olive mill are situated around the tower built by the Venerosi Pesciolini family in 1370. We are in the area known as Colline Pisane, which comprises a range of hills southeast of Pisa. None of these gently rolling hills exceeds an altitude of 200 metres: the landscape is "soft" and the climate is mild, mitigated as it is by sea winds, without extreme temperatures and with no great risk of spring frosts.
The soil is a very interesting mixture. The area was once covered by the sea and the sandy-limy-clay soil of Pliocene origin is still very rich in fossil shells. The Tenuta di Ghizzano estate consists of about 865 acres, 50 of which are cultivated as vineyards, 50 as olive groves, 370 with cereal crops and 370 as woods and poplar groves.
Our aim is to keep investing in natural agriculture and viticulture to offer the market limited quantities of outstandingly high quality products, respecting the characteristics that wine and oil can express in this area, without forgoing the style, elegance and wealth of perfumes offered by these gentle hills. Producing small quantities of our wine, but very, very well… and never ceasing to believe in what we do. In 2003 we began the conversion process to organic farming methods and we have been officially certified by the 'Suolo e Salute' association since 2008.
No video available for this vineyard
Address:
City:
Postcode:
State:
Country:
Phone:
Email:
Tenuta Di Ghizzano - Via Della Chiesa
Ghizzano Di Peccioli
56030

Italy
+39 0587 630096