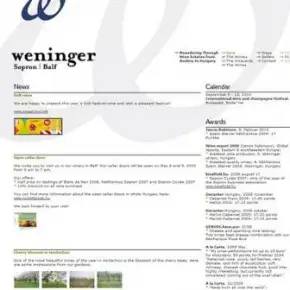 About This Vineyard
This organic winery is located in the small, tranquil village of Balf, at the southern end of Lake Neusiedl. It is a small village, but the silence here is vast. Sky, earth, and water converge to form part of the UNESCO World Heritage region. Change is not always welcome here, not by the people, nor by the silence. But if you are persistent yet not too loud, you are allowed to go your own way. While the storks look on benevolently from their nests.
Here in the east of Hungary lies the wine region of Sopron: predominantly red wine is cultivated on the more than 1,900 hectares of vineyards between Lake Neusiedl and the Sopron mountains – a zone where Pannonian and subalpine terrrains converge. The foothills of the Alps bring coolness, the lake stores warmth, and the ground willingly submits to cultivation. 
Franz Reinhard Weninger grew up on his parents' wine estate in central Burgenland. Only a few kilometres from the lake, close enough to the wine. In Horitschon he not only learned the art of making wine from his father, but in doing so also discovered his great passion. After graduating from enology school in Klosterneuburg, he did internships at Schloss Sallegg (Italy), Kendall-Jackson's Vinwood Cellars, California (USA), and the Mundrakoona Estate (Australia). 
No video available for this vineyard
Address:
City:
Postcode:
State:
Country:
Phone:
Email: